Ethiopian Prime Minister Abiy Ahmad said on Sunday 10/6/2018 that he mulled with President Abdel Fattah El Sisi means of boosting bilateral relations, asserting that the Ethiopians respect their Egyptian neighbors and brothers.
In a press conference with President Sisi on Sunday, Ahmad said that Ethiopia and its government have no intention to harm Egypt's share of River Nile even if Ethiopia believes it must take advantage of the river.
Egypt and Ethiopia are working on strengthening ties, based on cooperation and mutual interest of their peoples, noted Ahmad, adding that they agreed on being friendly.
He added that he agreed with the Egyptian president that Ethiopia will give more attention to the Nile, preserve Egypt's share of it and work on increasing Egypt's share.
The Ethiopian Prime Minister pledged to cooperate with Egypt in all aspects including development.
He also described his talks with Sisi as "friendly".
He also thanked Sisi over his efforts meaning to serve the historic relations between the two countries, topped by releasing all the Ethiopians prisoners jailed in the Egyptian prisons.
President Abdel Fattah El Sisi lauded Ahmad's speech, saying that the Egyptian and Ethiopian authorities would work on achieving the strategic partnership required between the two countries.
"All Egyptians respect and appreciate the Ethiopian people and all peoples living in the region," said the president.
Sisi pledged to develop relations with Ethiopia in all fields.
Earlier, Ethiopia's Prime Minister Abiy Ahmed Ali arrived on a two-day visit to Egypt.
This is his first visit to Egypt since assuming his post in April.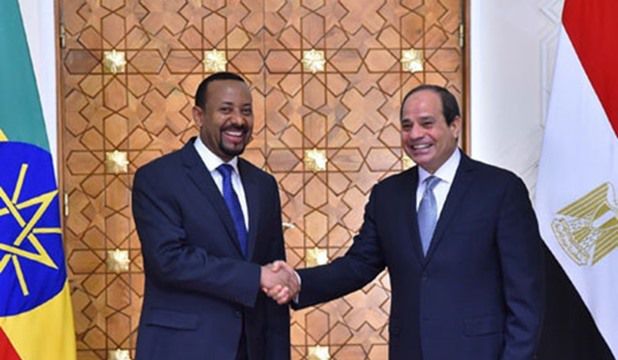 Mena