President Abdel Fattah El Sisi received members of the national football team mission participating in the FIFA World Cup 2018 in Russia, in the presence of Minister of Youth and Sports Khaled Abdel Aziz.
Spokesman for the presidency Bassam Rady said the team players promised Sisi to do their best at the world cup.
During the meeting, Sisi expressed his sincere wishes for the success of the national football team in the World Cup, stressing his full confidence in the national team players' awareness of the level of responsibility entrusted to them.
The president also stressed the importance that members of the team behave in a manner that reflects Egypt's outstanding value and status and shows how great the people of Egypt are.
Sisi pointed out that the state attaches a great deal of interest to sports considering them an important factor in investing the energies of youth and directing them towards areas that are beneficial to them and their homeland.
He underscored that the state is seeking in the next four years to achieve a qualitative leap in the facilities and infrastructure of Egyptian sports and "not just football, but all sports," in order for Egypt to be qualified to host and organize world championships.
The president was keen to learn about the health condition of injured Egyptian footballer Mohamed Salah, who confirmed that he is improving significantly and on his way to full recovery, Rady added.
Rady underlined that Abdel Aziz expressed his thanks and appreciation to Sisi for his keenness to receive the national team players before traveling to participate in the World Cup in Russia.
Abdel Aziz stressed the players will be up to the great responsibility entrusted to them and will exert utmost efforts to make millions of Egyptians and all football fans happy.
Rady said that the team's coach Hector Cuper asserted that the national squad players are ready for the world cup and "are really eager to bring happiness to the Egyptian people".
Mena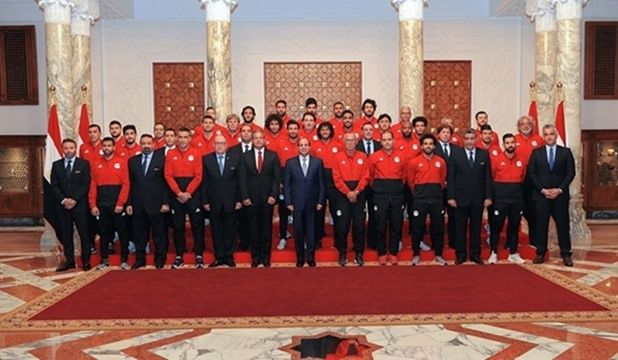 ...
Charilogone Media